Applies to: Sophos Home Mac
When scans are run with Sophos Home while Time Machine is enabled to a volume that is also used for other files, they will complete faster than expected.  It was only possible to set up a Time Machine volume this way prior to macOS Big Sur, but if a volume was previously set up this way, it will remain until changed.
(Time machine backups were possible to create on HFS/HFS+ volumes prior to Big Sur, but they can now only be created on APFS volumes) 
What to do
To allow the full system outside of the Time Machine volume to be scanned while Time Machine is enabled, it is recommended to disable the current Time Machine volume, and create a new one in the new format. 
This can be done by clicking the Apple logo at the top right of the screen > System settings > General > Time Machine. 
Click the current Time Machine volume and then the remove button ―
On the pop-up that appears, click "Forget Destination"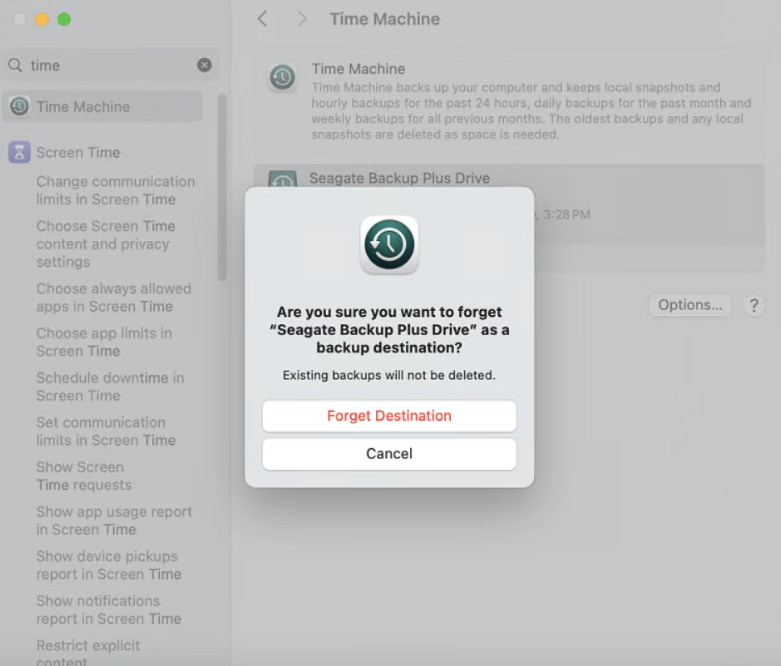 Note: You can re-enable Time Machine after, but it is recommended to set up a new volume for it. The steps for this can be found in the following article from Apple:
https://support.apple.com/en-ca/HT201250 
Related information