Applies to: Sophos Home Premium and Free (Windows) all versions.
Users who are attempting to perform a System Restore in Windows may receive the following error when Sophos Home is installed:
"System Restore did not complete successfully. Your computer's system files and settings were not changed"
Users may also see error 0x80070005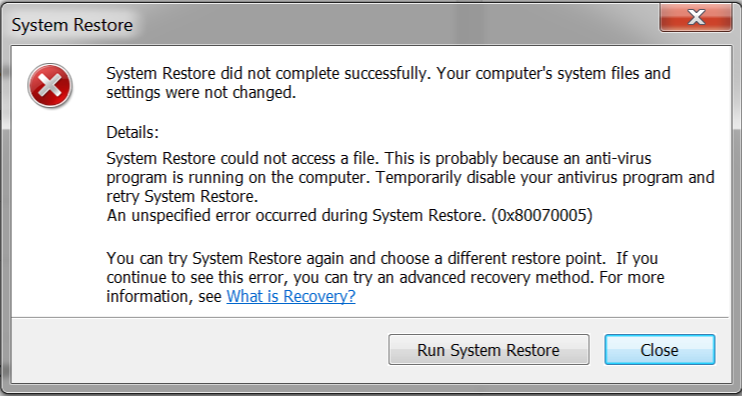 Cause:
This message is triggered by Sophos Home's Tamper Protection, a security feature of Sophos Home which prevents the software from being manipulated from other applications.
What to do:
System Restores can be performed after performing one of the following options:
Option 1.
Temporarily uninstalling Sophos Home and re-installing after the System Restore has completed. (Preferred method). If you are unable to uninstall the software, please see option 2.
Uninstalling Sophos Home on Windows computers
Installing Sophos Home on Windows computers
Option 2.
Disabling Tamper Protection via registry edit. (Advanced Users).
When Tamper protection is turned off via the Sophos Home user interface, it is re-enabled after reboot. To prevent this, Tamper Protection must be turned off by editing the Windows Registry in Safe Mode
Disabling Tamper Protection when the Sophos Home user interface is not available