Applies to: Sophos Home Premium and Free (Windows and Mac)
On the Alerts section of the Sophos Home dashboard, your computer appears to have a Potentially Unwanted Application (PUA):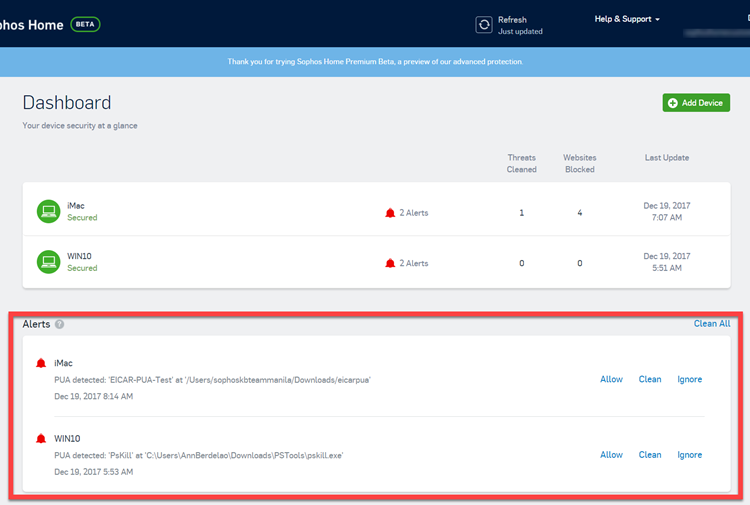 The detected software continues to be blocked on your computer until further action is applied.
Cause
Potentially Unwanted Application (PUA) is a non-malicious software. But, it shows an unclear function due to its unwanted behavior. Sophos Home automatically blocks the PUA when detected but does not delete it yet. It waits for the selected option of the user before taking any actions.
Solution
To resolve the PUA detected alert:
Sign in to your Sophos Home dashboard.
Scroll down to the Alerts section. Look for the computer where the PUA is detected.
Select one of the following actions:
 

Allow - This action allows the detected application to run. The application is then listed under PUA excluded applications on the Sophos Home dashboard.
Clean - This option deletes the PUA.
Ignore - This clears out the alert but the detected PUA is neither excluded or deleted. However, the alert triggers again when the application is relaunched.
Note: These actions can also be applied on the Sophos Home software installed on your computer.
Related information