Applies to: Sophos Home for Windows
You receive the following message when trying to install Sophos Home:
"Sophos Extractor
Could not extract the installation files. Please contact technical support. Error code: 30"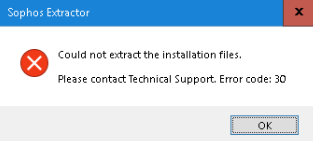 This error can occur due to several reasons:
What to do - 4 options
Option 1 - Download a new installer file
The most common cause of Error Code 30 is an incomplete or corrupt installation file.
Please, re-download the installation file (SophosInstaller.zip) using different internet browser and re-try installing Sophos Home.
See: Installing Sophos Home on Windows computers
Option 2 - Remove or change the default archive utility (unzip tool)
Error code 30 occurs during the extraction process of the installation. The first step is that the contents of SophosInstaller.zip are being extracted (unzipped). Often, a 3rd party archive tool gets in the way and prevents the extraction.
Follow these steps to change the behavior:
1. Uninstall any 3rd party archive utilities (sometimes, updating the 3rd party archive utility might help)
2. Change the default program that handles .zip files. See https://support.microsoft.com/en-ca/help/4028161/windows-10-change-default-programs
Option 3 - Remove any 3rd party antivirus programs
As per our General FAQ, we do not recommend having additional antivirus software installed along with Sophos Home as this can and will cause conflict. any 3rd party antivirus software should be uninstalled before installing Sophos Home.
Option 4 - Remove any 3rd party file explorer programs
Disabling 3rd party file explorers (file explorers other than Windows File Explorer) during the installation process may resolve this issue.
Related Articles