Applies to: Sophos Home for Windows on computers or Virtual machines running ARM processors/architecture
What's happening
When trying to install Sophos Home on a Windows computer that is using an ARM processor, you receive a message stating "There was a problem - An internet connection is required to install Sophos Home", even when you are connected to the internet.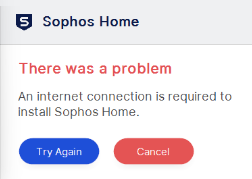 Why is this happening
Sophos Home does not run on ARM architecture. As such, you will encounter the above message when trying to install on an ARM device.
To see which devices are supported, please reference Sophos Home system requirements
Note: If you are using an M1 /M2 (Silicon) Mac device, and a Windows partition in it, The partition will also be considered ARM, and Sophos Home won't' be able to install there either.
I don't have an ARM processor
If you are seeing this or a similar message, but your computer does not have an ARM processor, please see the following article instead:
Installation is almost Complete message appears at the end of installation
Related articles