Applies to Sophos Home Trial/Premium for Windows
You have received the following message on the Sophos Home UI:
"You are not protected! Exploit mitigations are Disabled"
OR
"Exploit mitigation is experiencing problems"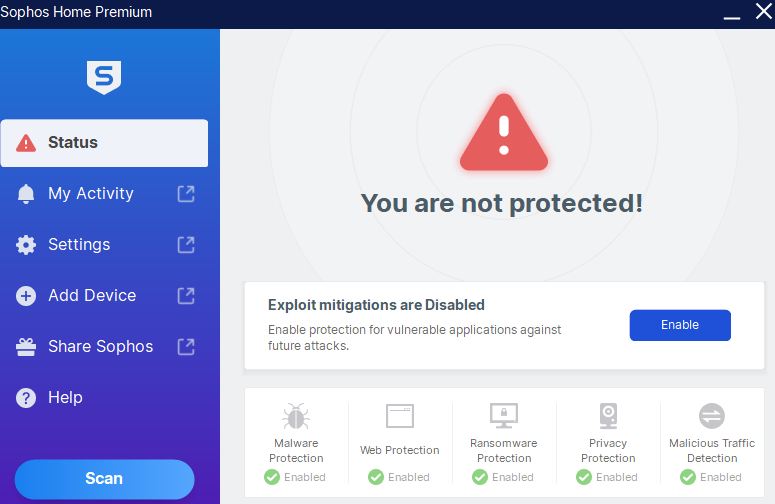 Causes
The problem can occur due to multiple issues:
The Sophos installer did not complete thru successfully.
The operating system of the computer is outdated.
The computer has performed system restore to an earlier point and removed portions of Sophos Home
Sophos Home has not been updated or upgraded to the latest version.
Hitmanpro or another antivirus software was present on the computer prior/after installing Sophos Home
Solutions
First steps
Run a Windows update to make sure the system is up-to-date, then restart the computer
If the computer is not connected to the internet, connect it and allow some minutes for Sophos Home to update (or, click on the Sophos Home Shield on your system tray to open Sophos Home, then click on Help --> Check for updates
Click on Enable to ensure the setting is enabled in the dashboard.
Make sure no other antivirus software is installed, otherwise, remove it and restart your computer
If the problems persist, a removal and reinstallation will be required as per the steps below
Perform uninstallation and reinstallation of Sophos Home to ensure the components get properly installed
Remove the defective Sophos Home installation on the computer by following these steps:
Remove any third party antivirus software that may be present on the computer, as it may negatively interact with Sophos Home, preventing it from fully installing (If you are installing Sophos Home Premium or Trial, you will also need to remove HitmanPro, as it is already part of Sophos Home)
Restart the computer
Reinstall Sophos Home following these instructions:
Manual troubleshooting for advanced users-> Check that the HitmanPro.Alert service is present and running.
On your keyboard, press the Windows key + R. This will open the Run window.
Type services.msc on the field then press Enter. This will open the services window.
Look for HitmanPro.Alert service. Check that the service is present and running.
If the HitmanPro.Alert service is missing/cannot be started, proceed to the next steps. Otherwise, if present, ensure it is started and that its Startup type is Automatic.
If the issues persist, follow the reinstallation procedure as listed above.
Related information