Apples to Sophos Home for macOS
What's happening
"SophosAgent cannot be opened because of a problem" message appears after updating macOS to a newer version.
Added to this, the Sophos Home shield is no longer visible on the Mac's menu bar.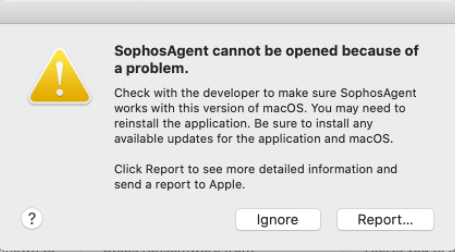 Why does this happen?
Please refer to Apple support's documentation on this error message for additional details: - https://support.apple.com/guide/mac-help/if-you-cant-open-an-app-mchlp1519/mac
What to do?
To correct the problem, and ensure your computer is safe from malware, please re-install Sophos Home by following these steps (click on each link to see additional details)

1 - Uninstall Sophos Home
2 - Restart your computer
3 - Re-download Sophos Home from your Dashboard
4 - Install Sophos Home using the newly downloaded version from step #3
Related articles