This article covers how to use a License Key to activate Sophos Home Premium.

IMPORTANT: A license key can be activated one time only - A Sophos Home account is required to activate additional computers under the same license key.
Please see the Activating additional computers section of this article for additional information regarding how to set up your Sophos Home account and protect multiple computers.
Activating your Sophos Home Premium License Key
1. Download Sophos Home
2. Apply your Premium License Key
macOS Click on the Sophos Home Shield >...> Activate Premium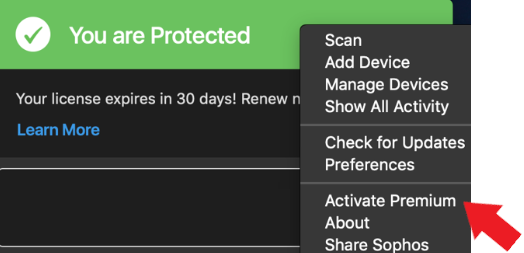 Windows Click on your System tray> > Sophos Home shield> Enter License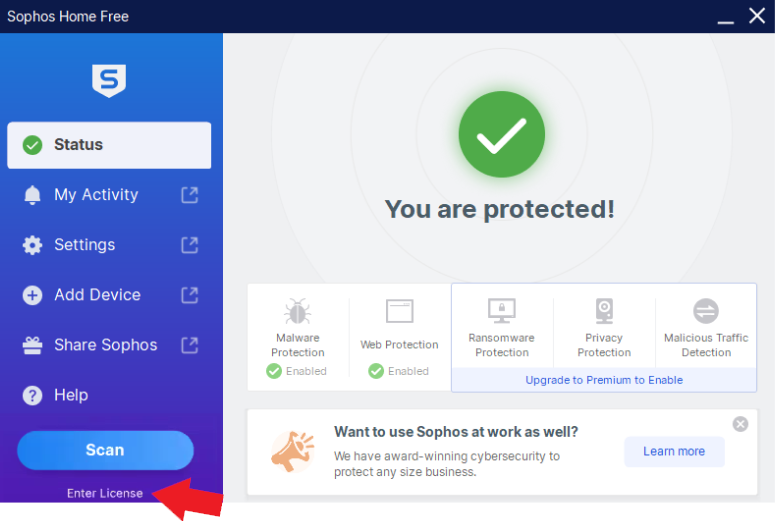 3. You will be automatically redirected to the Sophos Home Dashboard to enter your License Key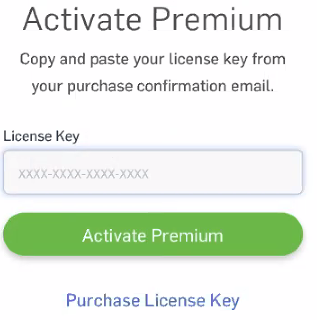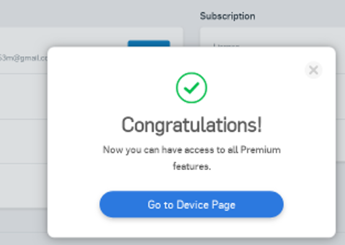 4. If you don't have a Sophos Home account, you will be presented with a dialog to create one after entering your license key.
You need to create an account to protect additional systems with your Premium subscription .
Note: If you have accidentally installed Sophos Home without using your existing account, please re-install using these steps: How to reinstall Sophos Home
What happens next?
After you activate your Premium License key, 1 of 2 things will happen, depending on how did you download Sophos Home:
Scenario 1 - You will be presented with the option to create a new account (this happens if you downloaded the installer via the Sophos Home website)
A Sophos Home account is required to protect additional computers with your current Premium License Key.
Scenario 2 - Your key will be added to your existing account (this happens if Sophos Home was installed via your Sophos Home dashboard) . If this is the case, any other computers running Sophos Home from this dashboard will also upgrade to Premium.
Activating additional computers with your Premium account
To activate additional computers (up to 10), you need use a Sophos Home account, as covered in the activation steps.

Once you have activated your Sophos Home Premium account with your key, follow these steps to protect additional systems:
1.From your Sophos Home Dashboard, Click on the Add device button.

2. Choose the appropriate option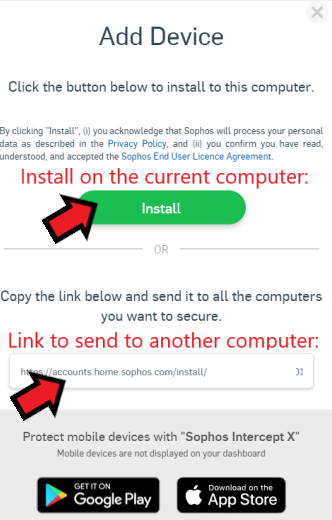 3. This downloaded version will be attached to your Sophos Home account, and will benefit from any Premium features enabled on that account.
4. Repeat this process to protect additional systems. Be sure to download a new installer each time, as they are specific to each computer.
Checking your subscription status to verify the key has applied:
Additional information on License keys
How can I obtain a license key?

1. Visit the Sophos Home website and click Buy
OR access the in-product cart (Windows users only).
2. Choose the desired plan and follow the steps to purchase a license
3. At the end of the process, you'll be provided with a license key to enter directly to your Sophos Home installation or to your Sophos Home dashboard. Customers choosing to use the In-product cart will have their key auto-applied.
What does a license key look like?
License keys have the format XXXX-XXXX-XXXX-XXXX (they are comprised of 20 characters plus 3 dashes)
Can I save my license key for later?
No, license keys' timer starts at the moment of purchase. Be sure to activate your license as soon as you purchase it, to benefit from the Premium features for the entire duration of the license.
Auto renewal options are covered at the time of purchase - For payment questions, please see: How to change billing and payment information for Sophos Home Premium subscriptions .
Can I extend my current subscription by adding another license key?
Yes. Follow the steps to purchase a key, (if needed) follow the dashboard steps to activate the additional key, and your subscription will be extended accordingly.
Can I add a coupon to a license key activated account?
No, the coupon option goes away once Premium has been activated.
I purchased a Premium subscription before license keys came out, do I need to take any action?
No, no action is required. Existing subscriptions will continue to work without user intervention, and recurrent purchases will take place automatically. For payment questions, please see: How to change billing and payment information for Sophos Home Premium subscriptions .
Sorry, that email is already in use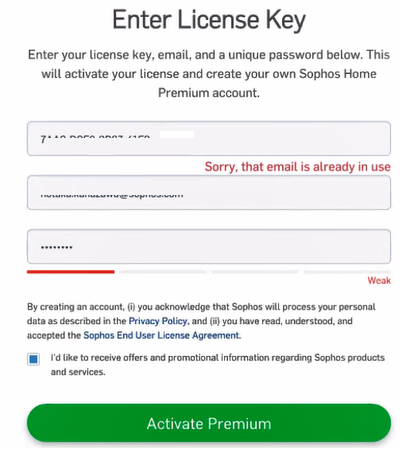 This message indicates that the email address is already in use with a Sophos Home account. If you have accidentally installed Sophos Home without using your existing account, please re-install using these steps: How to reinstall Sophos Home
The key is already used appears when I try to activate Premium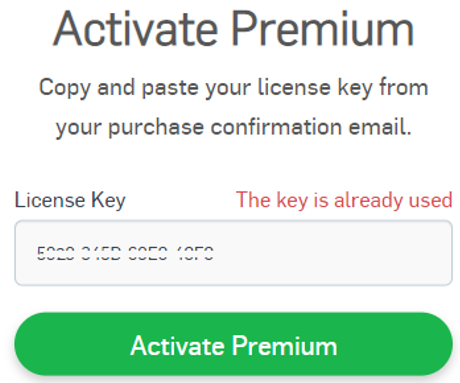 This happens when trying to use a key that has already been activated License keys can be activated one time only. To protect additional computers (up to 10) with your Premium subscription follow these steps