How can I temporarily disable Sophos Home ?
Sophos Home provides a layered approach to security. In order to completely disable all of its protections, users will need to access their Sophos Home Dashboard, and turn off the PROTECTION sliders for each subsection (General, Exploits (Windows only), Ransomware and Web).
You may also want to turn off PRIVACY protections if the troubleshooting/testing is related to your webcam
 Note: Sophos does NOT recommend performing these steps unless required for troubleshooting/testing purposes. Disabling all of the protection layers leaves the computer at risk and vulnerable to threats until re-enabled. 
To exclude software instead, please see the related information at the bottom of this article. 
 Follow these steps to turn off all of the protections as needed:
Please Note: Before performing these steps on a Windows computer, please Disable Tamper Protection according to these steps: How to Disable Tamper Protection on Sophos Home
1 - Log in to your Sophos Home Dashboard
2 - Choose the desired computer and click on the PROTECTION tab
3 - Turn all the blue sliders to the gray position by clicking on them  
4 - Repeat step 3 for every sub-section of the PROTECTION tab (General, Exploits (Windows only), Ransomware and Web)  as needed. 
5 - Wait a few seconds until the Sophos Home Antivirus reflects the non-protected status and troubleshoot/test as needed. When finished, turn the protections back on to ensure system security.  
6 - If desired, click on the PRIVACY tab to turn off webcam protection
7 - Perform any needed test steps, then re-enable the protections by following the above listed steps, and ensuring all the sliders are in the blue (on) position. 
Note: Turning off Risk Reduction will also disable Webcam protection - This is expected behavior and users should turn both back on after they are done troubleshooting/testing. 
Example of Windows computer - PROTECTION -- > General features disabled
(to disable other layers, see step 4) 

Example of Mac computer - PROTECTION -- > General features disabled
(to disable other layers, see step 4)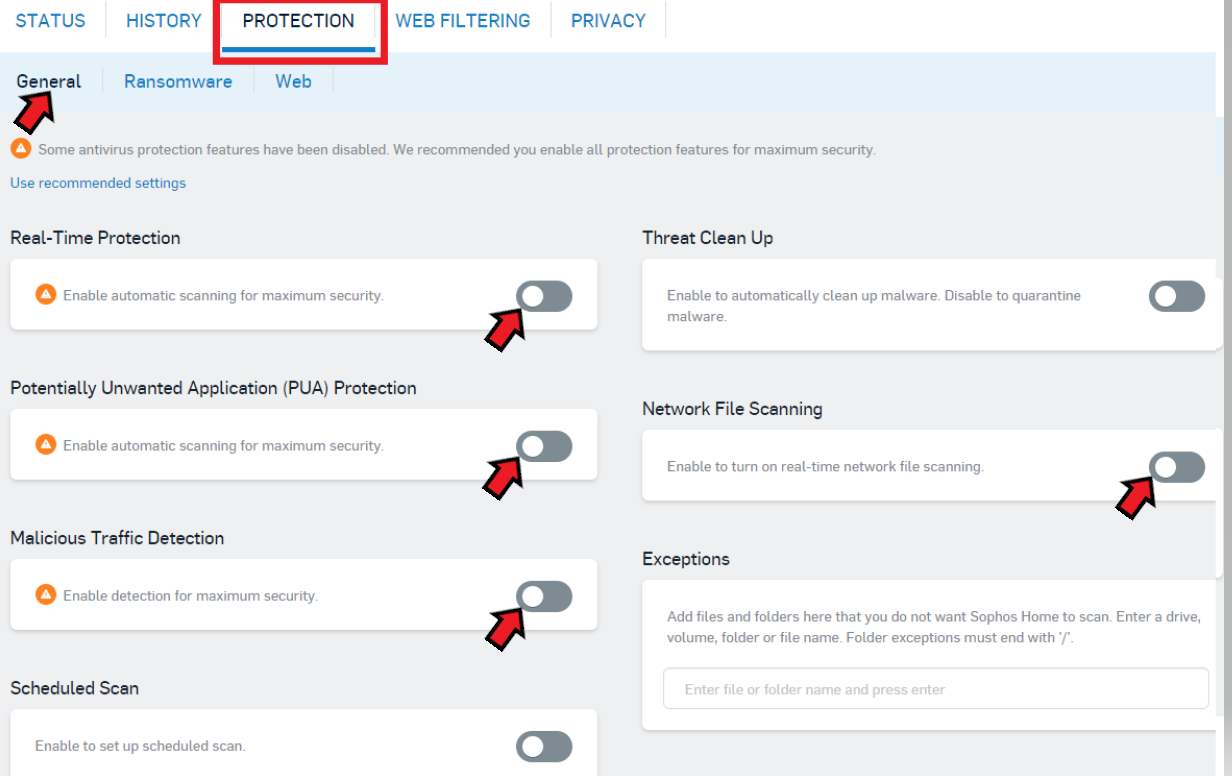 Related information