Applies to: Sophos Home Premium and Trial
This article covers how to get started with Sophos Home for Windows, Mac and Mobile devices, as well as how to configure it and perform installations on additional devices.
If you are looking for more information regarding what is Sophos Home and how to get it, please visit our General FAQ and our home page
For more information regarding how to manage Sophos Home account and subscriptions, please see the "Managing your account" support page.

Getting Started-Part 1- Installing Sophos Home
Installing Sophos Home on macOS
Installing Sophos Home on Windows computers
Protecting mobile devices
Post installation steps and key activation
License key activation
Enabling Multi-factor authentication (2fa)
Getting Started-Part 2- Configuration and settings
Sophos Home user interface can be launched via the Sophos Home shield and provides access to several dashboard settings, running local scans , checking for updates and more! Watch the below videos for additional details.
Mac: Click on the Sophos Home Shield located in the Mac menu bar to open the Sophos Home UI

Windows: Double Click the Sophos Home shield in the system tray to open the Sophos Home UI

Filtering websites - Allowing or blocking URL access
Protection layers
Sophos Home has a layered approach to security, its features include Real Time Protection, artificial intelligence, exploit protection, ransomware detection, home banking protection, and more!
To see a list of all the available features please see Sophos Home features and/or visit our home page
For additional information, visit our security center
The Sophos Home Dashboard
Accessing your dashboard
Sophos Home is a cloud based antivirus and its settings are configured via the
Sophos Home Dashboard
.
The Dashboard can be accessed directly from the antivirus by
Enabling Direct Access
or
from any device via a
web browser
.
On the dashboard, users will find their protected computers, links to add new devices, contact support (Premium), configure settings, and manage their Sophos Home accounts.
Note: A Sophos Home account is required to use the Dashboard.
Sophos Home Dashboard video:
Dashboard views and options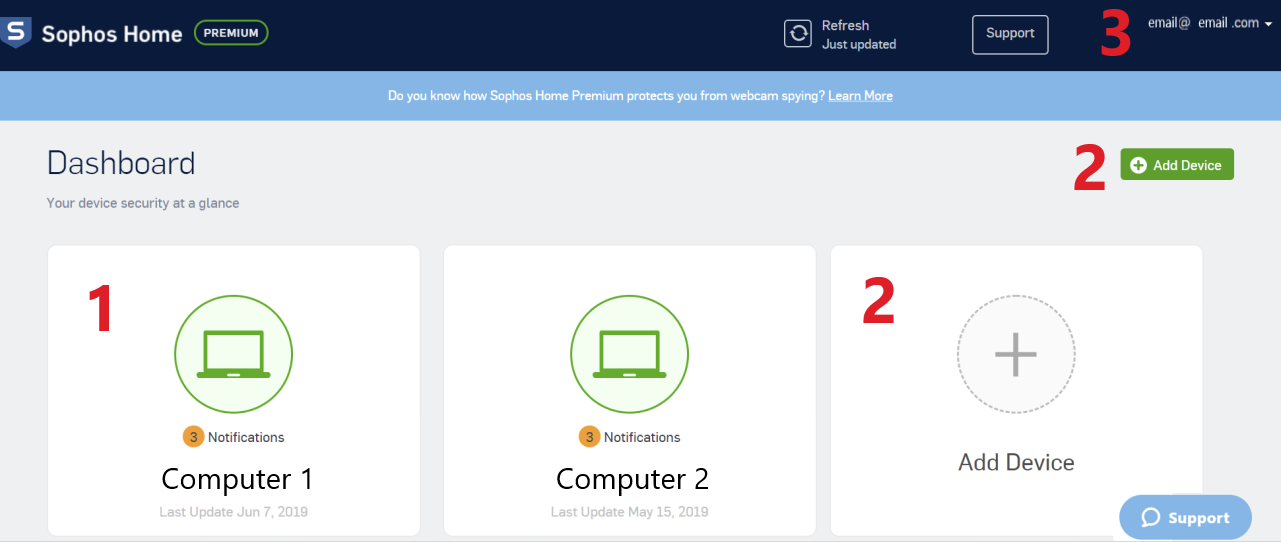 Click on the image to see it full size in a new tab
Sophos Home Dashboard overview - image entries:
1 – Click on a desired computer on the dashboard to access its history and settings (if only one computer is protected, then users will be directed to that when accessing the dashboard).
2- 2 different ways to add a new device, one via the green Add Device button, and another via the plus "+" symbol.
3 – (Top right of the dashboard) Account email. Clicking on the arrow next to the email allows users to access their account settings by selecting "My account"
Dashboard view of a specific computer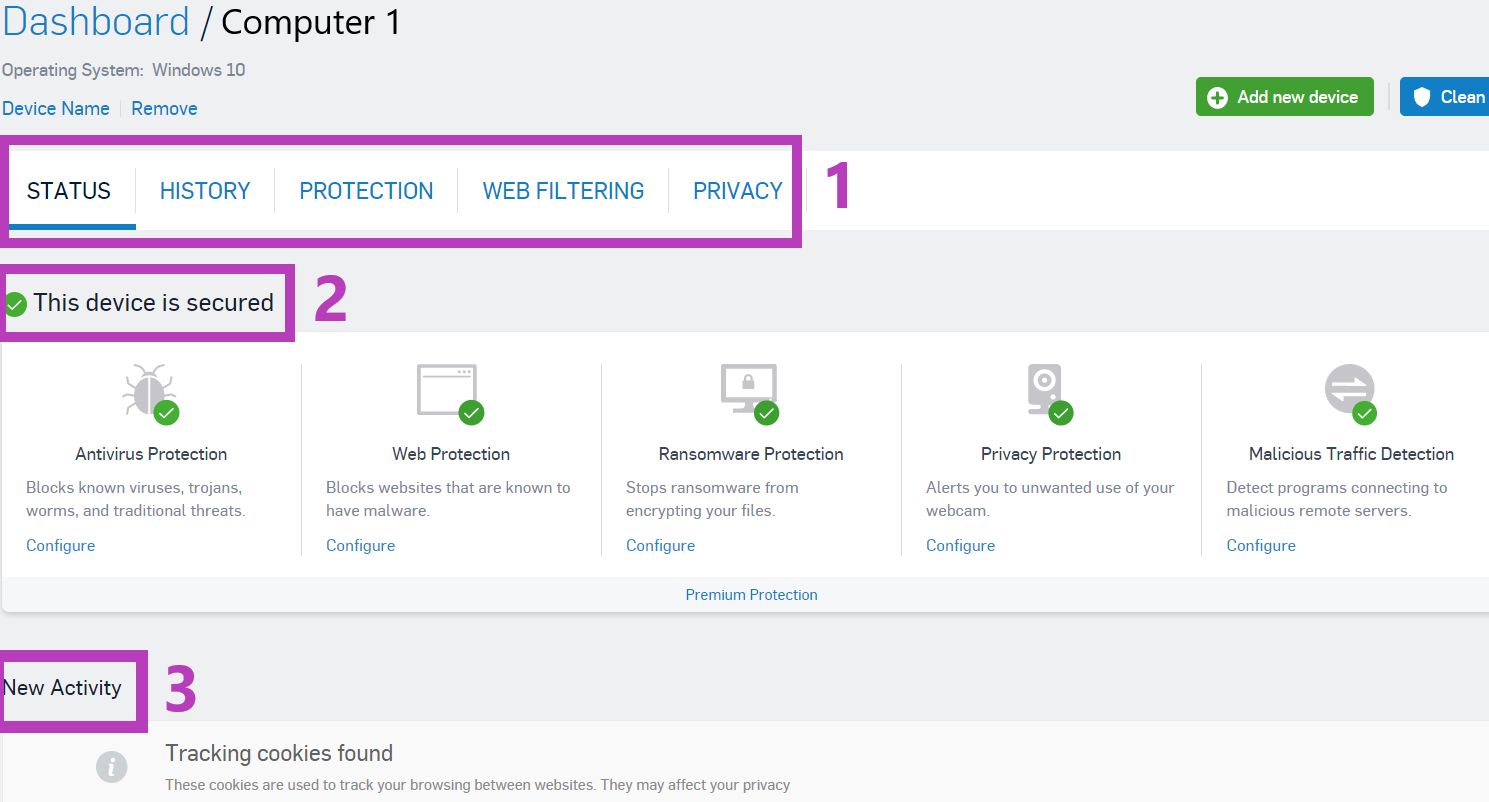 Click on the image to see it full size in a new tab

Dashboard view of a specific computer - image entries:
1 – Available configuration options and views (by default, it starts by showing the STATUS tab. But customers may access different configurations and settings by clicking on HISTORY, PROTECTION, WEB FILTERING and PRIVACY tabs).
2 – Dashboard status will display the protections that are enabled and whether the endpoint is secure. You may configure these features by clicking the "Configure" button listed within each one.
3- New activity lists the latest events on the endpoint. To see all of them, use the HISTORY tab.
Additional dashboard configuration options
Getting Started-Part 3- Scans, sample submissions, exclusions
Scanning
Sophos Home takes Internet security to a whole new level by seeking out and analyzing suspicious behaviors and activities. This proactive approach to protection, along with real-time threat intelligence from our 24/7 SophosLabs, ensures computers are protected from new and developing viruses, malware, ransomware attacks, application and OS exploits, PUAs, phishing attacks, malicious websites, and the latest cybercrime.
However, if desired, customers can perform manual scans of their whole systems or specific files/folders.
Note: To scan a file or folder, right-click on them --> Scan with Sophos Home

Manual scan options:
Running a premium scan on Windows
Running a full system scan on Windows
Running a full scan on Mac
Running a fast scan on Mac
Right-click scanning files and folders on macOS
Scheduling scans
Sign in to your Sophos Home dashboard.

Click the computer that you wish to scan.

Navigate to

PROTECTION ---> General --> Scheduled scan

Click on the slider to enable the scan and choose the desired date/time.



Note: Scheduled scans will show on the Sophos Home dashboard on completion - The computer must be connected to the internet and not asleep for the scan to take place. If the computer is a laptop, it must be connected to the charger. If the machine is offline/asleep, or is a laptop on battery power, then the scheduled scan will not go through. Another scan will be attempted on the next scheduled day/time.
Reporting a website, program or file to Sophos Labs
Excluding files, programs or websites
Getting Started–Part 4- Troubleshooting and Support