Sofia is Sophos Home's virtual assistant AI Chatbot designed to give accurate and detailed answers to our customer's most common questions in a quick and efficient manner.
The following article provides some tips on how to successfully interact with Sofia.
How to access Sofia
Sofia can be accessed via our Help Center and from your Sophos Home Dashboard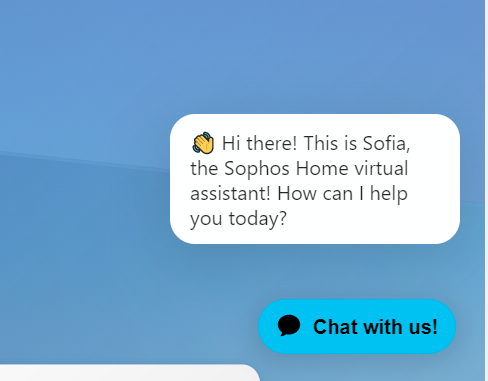 We recommend Sophos Home Premium users to sign in before chatting, so they can easily be transferred to support when needed.
Tip 1. If you are receiving an error message, provide the exact error you see.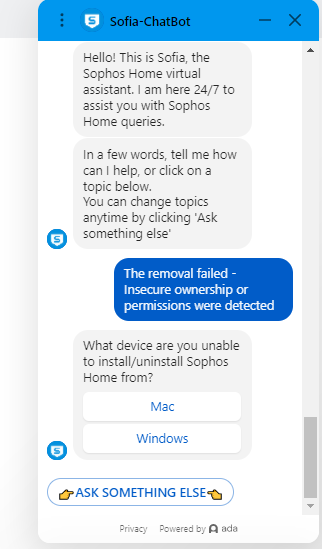 Tip 2. Keep your questions short and to the point.
Do's:
Use keywords like "I want to change my email address" or "I want to change my billing address".
Use exact error messages like "Removal Failed" or "Installation Failed".
How to install/uninstall
Billing, purchase, renew, license key
Dont's:
Avoid using paragraphs. Use short, concise statements.

Do not use names, file names, dates or computer names.

Do not use file paths, as they will all be different per user. Instead, provide the error you are receiving/action you want to accomplish.

Do not provide non-Sophos Home related information, Sofia is programmed only with information related to Sophos Home.
Tip 3. Use the suggested answers that result from Sofia recognizing keywords.
Tip 4. Ask one question at a time
If you have multiple questions, you can ask another at the end when you see "Ask Something Else"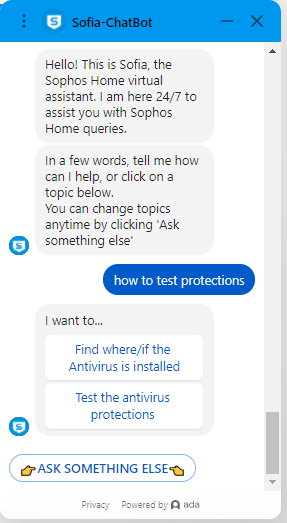 Tip 5. You can ask for a representative at any time.
If you are a Sophos Home Premium subscriber, you can say something like "live agent" or "human". You will be directed to a live agent if it is within our hours of operation (8:00 am until 8:00 pm ET, Monday to Friday) or a ticket will be created which will be handled by the next available agent who will reply back via email.
For better results, we recommend signing in to our Support Site before initiating a chat if you are a Premium customer. This will allow for a faster transfer to support if needed. (You can always sign in afterward, and ask for support again!).
Tip 6. You can change the language, request a transcript or turn off sound by clicking on the three dots > Settings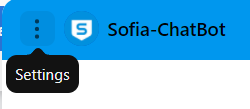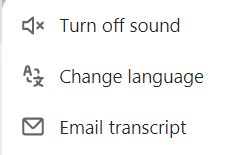 Note: Sofia will automatically detect your language as you type it, but if desired, you may manually change it to a different one.
Related information:
Sophos Home - Getting started Guide